IN THE NEWS
COVID-19 Resources
Over the last year we have all seen how quickly things can change as the world focused efforts to create, produce and distribute COVID-19 vaccines quickly and safely.
Our entire team strives to stay informed so that we can share information with you, your clients and their employees. We've compiled a brief list of COVID-19 resources that we've found to be useful:
Access to information has been important during this pandemic and we have seen all three of our major PBM partners make new resources available to plan sponsors and members.

The Express Scripts COVID-19 Information Center continues to be updated regularly with articles, FAQs, videos and much more.
The Express Scripts Member Resource Center is a great portal as well, providing member centric news, FAQs, tips for using home delivery and vaccine resources by state.

The OptumRx COVID-19 webpage continues to be updated regularly with articles, FAQs, videos and much more.
Additionally, they offer an assortment of materials you can use to communicate with your members, such as member FAQ, email templates and flyers.

The CVS COVID-19 Payor Resource Center continues to be updated regularly with information on vaccination, testing, treatment, FAQs, videos and much more.
Additionally, they offer a toolkit you can use to communicate with your members, including items such as member FAQ, web banners and flyers.
New Drug Release – Long Acting HIV Injection
FDA has approved Cabenuva, the first injectable, complete HIV regimen for adults that does not require daily tablets. This approval will allow some patients the option of receiving once monthly injections in lieu of a daily oral treatment regimen. This is to replace a current antiretroviral regimen in those who have achieved viral suppression (a viral load less than 50 copies/mL) on a stable antiretroviral regimen with no history of treatment failure. However it is not for use in patients that are not virally suppressed (HIV-1 RNA greater than 50 copies/mL). So essentially someone can be transitioned over to Cabenuva after they are stable on HIV therapy and their HIV viral load is undetectable. This regimen was preferred by 9/10 clinical trial participants when compared to their prior daily oral regiments. Reasons included greater convenience, having to think about HIV treatment only 12 times a year, and not having pill bottles that could reveal their HIV status to others. This monthly injectable combination will cost about $4,000 each month or more than $47,500/year and must be administered by a healthcare provider. In 2018 there were ~36,400 newly infected patients living with HIV in the US and in 2019 about 1.7 million people worldwide became newly infected.
Sources: "
FDA Approves First Extended-Release, Injectable Drug Regimen for Adults Living with HIV
," US Food and Drug Administration, 2021. Liz Highleyman. "
FDA Approves Cabenuva, the First Complete Long-Acting Injectable HIV Treatment
," POZ, 2021.
Weight Loss Management/Obesity Coverage
Weight-loss drugs have often been dismissed as cosmetic or vanity treatments and were historically excluded from a plan's pharmacy benefit. However, we are seeing more plans make the decision to now include coverage of in their prescription benefit. Since obesity is not identified as a therapeutic indication, it is very often missed as an important treatment opportunity. As Type 2 diabetes, heart disease, cancer and other serious medical problems are linked to obesity, the coverage of prescription drugs to supplement weight management becomes more and more valuable. New therapies, studies and innovation have proven that obesity needs more focused attention, especially in the Rx space.
Currently, pharmacy benefit managers are offering new programs to help tackle obesity and weight management as the progression of this disease leads to cardiovascular and diabetes comorbidities.
Express Scripts
Express Scripts is expanding its SafeGuardRx platform offering to include the Weight Management Care Value program. According to the company, the program offers support including:
Dedicated, personalized coaching from Therapeutic Resource Center clinicians
Access to anti-obesity medication from any in-network pharmacy
Digital tools:
Connected scale that automatically transfers weigh-in data for review
Personalized and behavior-based weight-loss program
App-based peer support group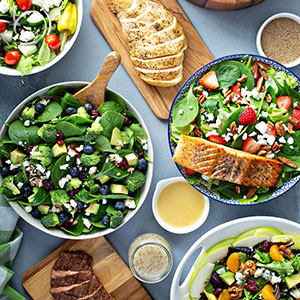 CVS
CVS has collaborated with digital health apps such as Kurbo, Naturally Slim, WW and Vida.
Kurbo
Digital program for children and teens ages 8-17 that teaches users how to make healthier choices and lifestyle changes through weekly video coaching, in-app chat, messaging, games and educational videos.
Naturally Slim
A digital behavior change program meant to reduce chronic disease risk of members, starting by changing their relationship with food. NS teaches members clinically proven skills to achieve an maintain weight loss, manage stress, sleep better and move more.
Vida
Digital nutrition solution with integrated mental health skils-development and personalized health coaching that aims to change long-term behaviors that affect weight loss.
WW
Digital weight loss and wellness program based on nutritional and behavioral science for weight management through coaching, community, customized food plans and tools to log food, activity and sleep.
Optum
Optum offers a collaboration with the Real Appeal program. Its approach is based on clinical studies focusing on lasting lifestyle change. The formula is simple: small, steady, sustainable steps are the path to a healthier future. The program provides:
Ongoing support and guidance
Online coaching, group sessions and community
Small steps for lifelong change
Chart daily progress with nutrition and exercise trackers
Resources to keep you motivated
24/7 online access and support, including a mobile app
Success kit: weight scale, food scale, exercise DVDs, helpful guides and more
Sources: John Wigneswaran, MD. "
New Weight Management Tools Help Win the Battle Against Chronic Obesity
," Express Scripts, 2021. Laura Lovett. "
CVS Adds Big Health's Daylight, Weight Watchers, Kurbo & More to Offerings for PBM Clients
," MobiHealthNews, "
How It Works
," Real Appeal.
Healthcare Trends to Watch in 2021
Mental Health Crisis
Prior to COVID-19, mental health needs were a major issue in healthcare, however, the number of individuals experiencing declining mental health increased as a result of the pandemic. GoodRx reported that not only have 63% of 1,000 people surveyed said their depression/anxiety symptoms worsened, but that depression/anxiety meds in general reached an all-time high for 2020. As we emerge from the pandemic, it will be important to continue the dialogue about mental health and well-being, as well as minimizing the stigma so that people who need support will go and get the help they need.
Importance of Pharmacists
According to CVS Health, pharmacists are expected to become a key player in a number of areas, especially in vaccine distribution. Since people listen to and act on the advice and recommendations of the pharmacists, they offer key opportunities to counsel patients about their health directly. This will continue to have a positive impact on the social determinants of health.
Mitigating High Price Therapies
Revolutionary medicines and treatments are being introduced to the market at exorbitant prices; it's not unusual to see new pharmaceuticals costing $1 million or more. This presents a significant cost problem for pharmacy benefit managers. CVS expects value-based contracting to take off in a major way to counter those costs, for example, for its $2 million gene therapy Zolgensma, Novartis is offering insurers a five-year payment plan with refunds if the drug fails to meet expectations. The potential for these therapies, according to CVS, is obvious, but many payers want to see some kind of proof before forking over hundreds of thousands of dollars.
Addressing Diabetes
According to CVS executives, diabetes risk is higher among disadvantaged groups, such as Black patients, and addressing it would need local and community-based solutions. Groups at the highest risk for the disease are less likely to live in places with easy access to a supermarket, which increases their risk of unhealthy eating. Access and affordability are the two most significant barriers to resolving this issue. One the bright side, retail clinics and ambulatory treatment centers are on the rise, and they can help with access by meeting patients where they are located. For example, CVS offers a Minute Clinic where patients can walk in and receive a variety of resources to help them manage their diabetes, such as tests, provider appointments, and referrals to diabetes educators that can help with lifestyle changes. Ideally, CVS is trying to create one-stop-shop experience that is easier for many diabetes patients to incorporate into their everyday lives.
Sources: Paige Minemyer. "
4 of the Biggest Healthcare Tends CVS Health Says to Watch in 2021
," FierceHealthcare, 2021.